Return to News
Beyond Borders: Celebrating Our OSS Student Ambassadors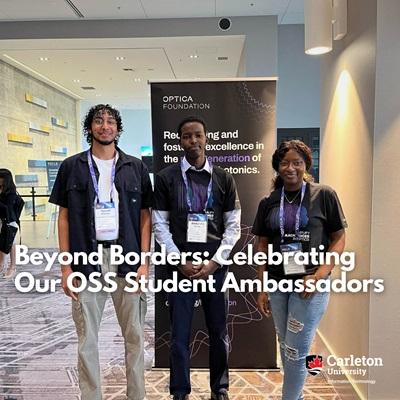 November 8th, 2023
We are excited to announce the participation of three of our outstanding Optical Systems and Sensors (OSS) students, Winny Kameni, Yoosuf Marikar, and Abdullahi Diriye, in the recent FiO - Optica conference, held in October 2023 in Tacoma, Washington.
Frontiers in Optics + Laser Science (FiO-Optica) is a globally renowned conference that attracts professionals and researchers worldwide. In 2023, it brought together over 1,100 attendees from more than 30 countries, providing a platform for sharing knowledge, innovations, and advancements in optics and photonics.
The conference featured a diverse range of topics, including Machine Learning, Quantum Technologies, and Virtual Reality and Augmented Vision. Our students had the opportunity to engage with visionary speakers and explore the latest developments in these cutting-edge fields.