Return to News
Undergraduate Research Awards Spotlight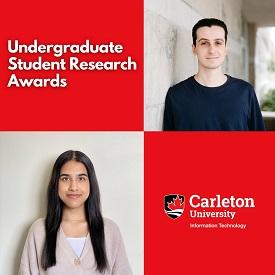 June 19th, 2023
Meet two of our recent recipients of the prestigious NSERC Undergraduate Student Research Award:
Braeden Sherritt is a recent OSS graduate who is working with Dr. Marzieh Amini on developing a Canada-specific MachineLearning model that could revolutionize disaster assessment and social media monitoring during emergency responses in Canada. Their mission is to enhance disaster response and ultimately save lives in Canada.
Nabeeha Ali is an IMD student who is working on understanding the disparities between definitions of the term "game mechanics". Nabeeha's project serves as a gateway to assist people of various disciplines and holds the potential to explore other interesting topics related to the understanding of games.